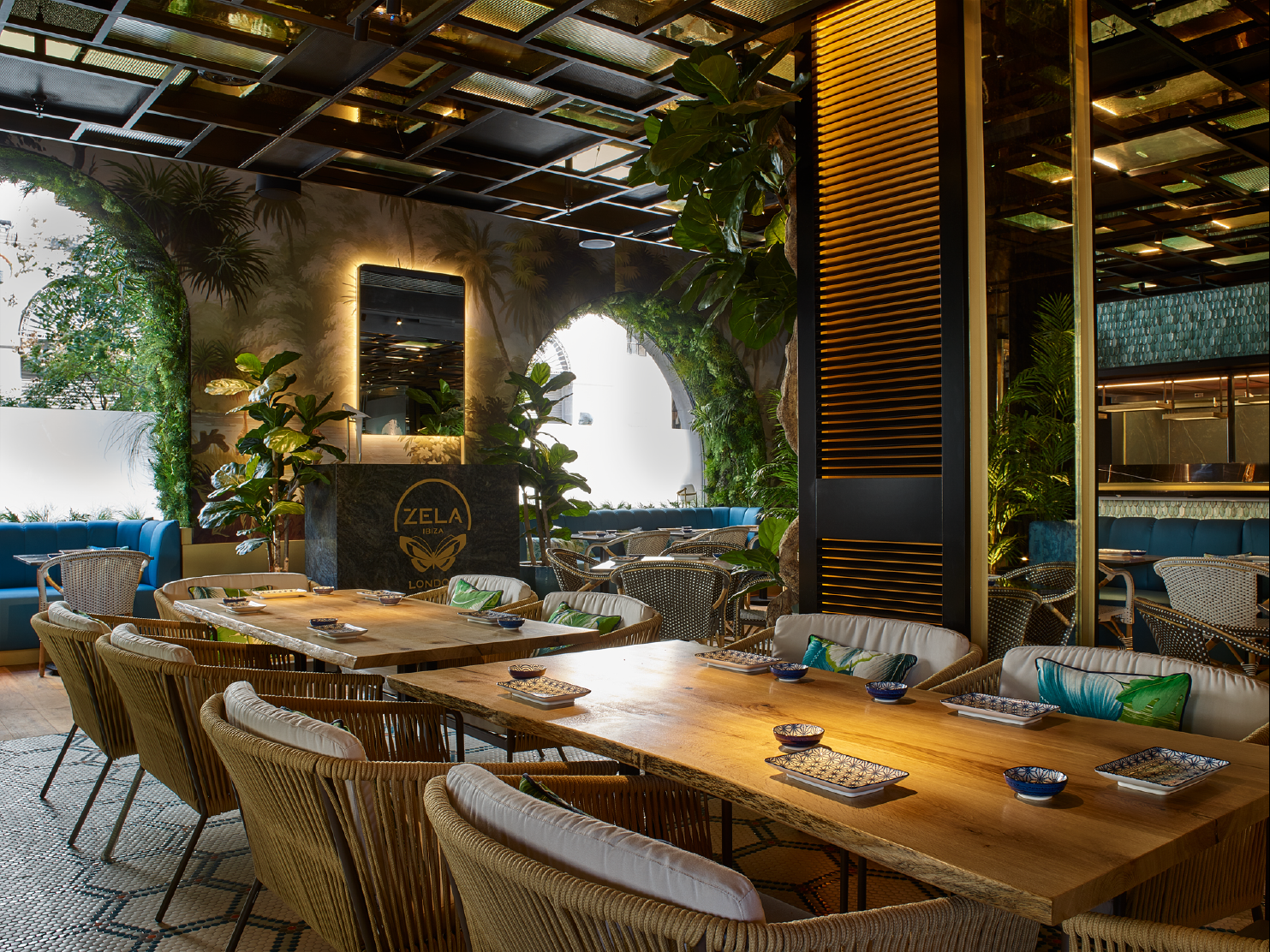 A Coruña, 12 November 2018. We present the latest work made in London designed by Studio Gronda: the Zela London restaurant that opened its doors to the public on October 1.
Located in the Hotel ME by Meliá in the central London neighbourhood of Covent Garden, it is the second restaurant in this design line of the Mabel Capital Group, preceded by the renowned Zela Ibiza.
The project has consisted of the integral execution of the high-end restaurant: 325 m2 built on a floor capturing the essence of Zela Ibiza and opting for the use of Indochinese references and natural elements to achieve a space with a typically Ibizan atmosphere in the centre of London, where the client feels unique and special.
Thus, we speak of a "meppon" kitchen restaurant with a fusion of Mediterranean products and Japanese techniques, a ground-breaking concept that attracts the attention of the most international public and that benefits from the prestigious gastronomic advice of Kabuki Group.
At the entrance, large bird-shaped lamps welcome visitors, and a fireplace connects with the main hall, creating a warm atmosphere.
Inside the dining room the vegetation is the common thread with large subtropical gardens that cover the arc-shaped windows.
The vegetable effect is fused with a hand-painted mural of colonial style in which frames with aged bronze mirrors are integrated.
The overlapping lattice roof with bronze layers, mirrors and glass sheets and the dim light provided by the black lacquered wood shutters are all standing out.
The sushi and cocktail bar running the length of the space are covered by Italy handmade glazed ceramic feathers.
With this exquisite project, we continue growing in one of our areas of expertise, hospitality.
https://www.theguardian.com/food/2018/nov/02/zela-me-hotel-london-wc2-restaurant-review-grace-dent
https://urbanologie.com/article/8222-zela-london
https://www.justopenedlondon.com/zela-covent-garden-london/
https://london.eater.com/2018/8/29/17795226/zela-cristiano-ronaldo-restaurant-london-ibiza
https://www.standard.co.uk/go/london/restaurants/cristiano-ronaldo-rafael-nadal-and-enrique-iglesias-bring-ibiza-restaurant-zela-to-london-a3927161.html
https://www.independent.co.uk/news/uk/home-news/cristiano-ronaldo-restaurant-opening-london-zela-japanese-food-juventus-a8539011.html
https://www.squaremeal.co.uk/restaurant/zela
https://www.hot-dinners.com/201808297566/Gastroblog/Latest-news/zela-london-opening-at-the-me-london-hotel-in-aldwych-has-backers-like-ronaldo-and-nadal-behind-it
https://londontheinside.com/ibiza-restaurant-zela-to-open-in-london/https://www.lavanguardia.com/comer/20181002/452142735906/restaurante-ronaldo-gasol-nadal-iglesias-londres-zela.html
https://www.mundodeportivo.com/elotromundo/gente/20181002/452143886336/restaurante-cristiano-ronaldo-rafa-nadal-pau-gasol.html
https://www.lavanguardia.com/comer/20181002/452142735906/restaurante-ronaldo-gasol-nadal-iglesias-londres-zela.html
https://www.diariodeibiza.es/pitiuses-balears/2018/09/15/ronaldo-anuncia-apertura-restaurante-zela/1014732.html
https://www.gastroactitud.com/pista/el-restaurante-zela-abre-sus-puertas-en-el-hotel-me-london/
http://www.revistahosteleria.com/es/notices/2018/10/la-naturaleza-protagonista-del-nuevo-restaurante-zela-londres-en-el-me-london-hotel-66728.php#.W-ACcpNKi70
https://www.alimarket.es/restauracion/noticia/285228/zela-anuncia-la-apertura-en-londres-de-su-segundo-restaurante
https://www.esdiario.com/720135968/La-cocina-meppon-llega-a-Londres-con-Zela.html