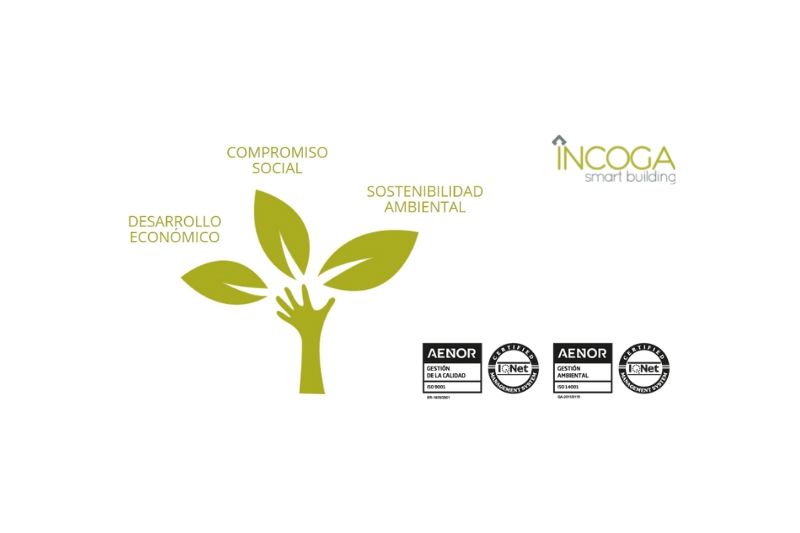 A Coruña, 14 May 2021. INCOGA GROUP has implemented in our international subsidiaries in the United Kingdom, France and Switzerland an Environmental Management System based on the UNE EN-ISO 14001:2015 standard as to demonstrate a solid environmental performance, by controlling the aspects and impacts associated with our activities on the environment, and communicate to our public our environmental achievements.
Our quality management and environmental management system is endorsed by AENOR through ISO 9001 and ISO 14001 certifications. We have implemented an effective and efficient Integrated Quality and Environment System, achieving as such the benefits of all stakeholders. We also have LEED certifications as part of our ongoing commitment to environmental sustainability to make better buildings.
Our commitment is based on working on continuous improvement, environmental protection, legislative compliance regarding environmental impacts and adaptation to new changes. The final objective is guaranteeing quality and respect for the environment in all executed works.
ENVIRONMENTAL POLICY
Our Environmental Policy includes our commitment to environmental protection and contamination prevention. In addition, it is the frame of reference in establishing our annual Environmental Objectives we propose to guarantee correct environmental management and performance. These objectives are established taking into account the significant aspects, in order to reduce the generated environmental impact.
We have established a control of all environmental aspects through monitoring indicators. As to prevent the aspects associated with emergency situations, we have defined an emergency response procedure. We also conduct regular trainings to raise awareness among our workers.
Regarding the way to manage the hazardous waste resulting from our works we, to the possible extent, manage it ourselves.
In short, INCOGA GROUP commits to permanently develop the guidelines that in aspects of Quality and Environment are set out in our Environmental Policy.