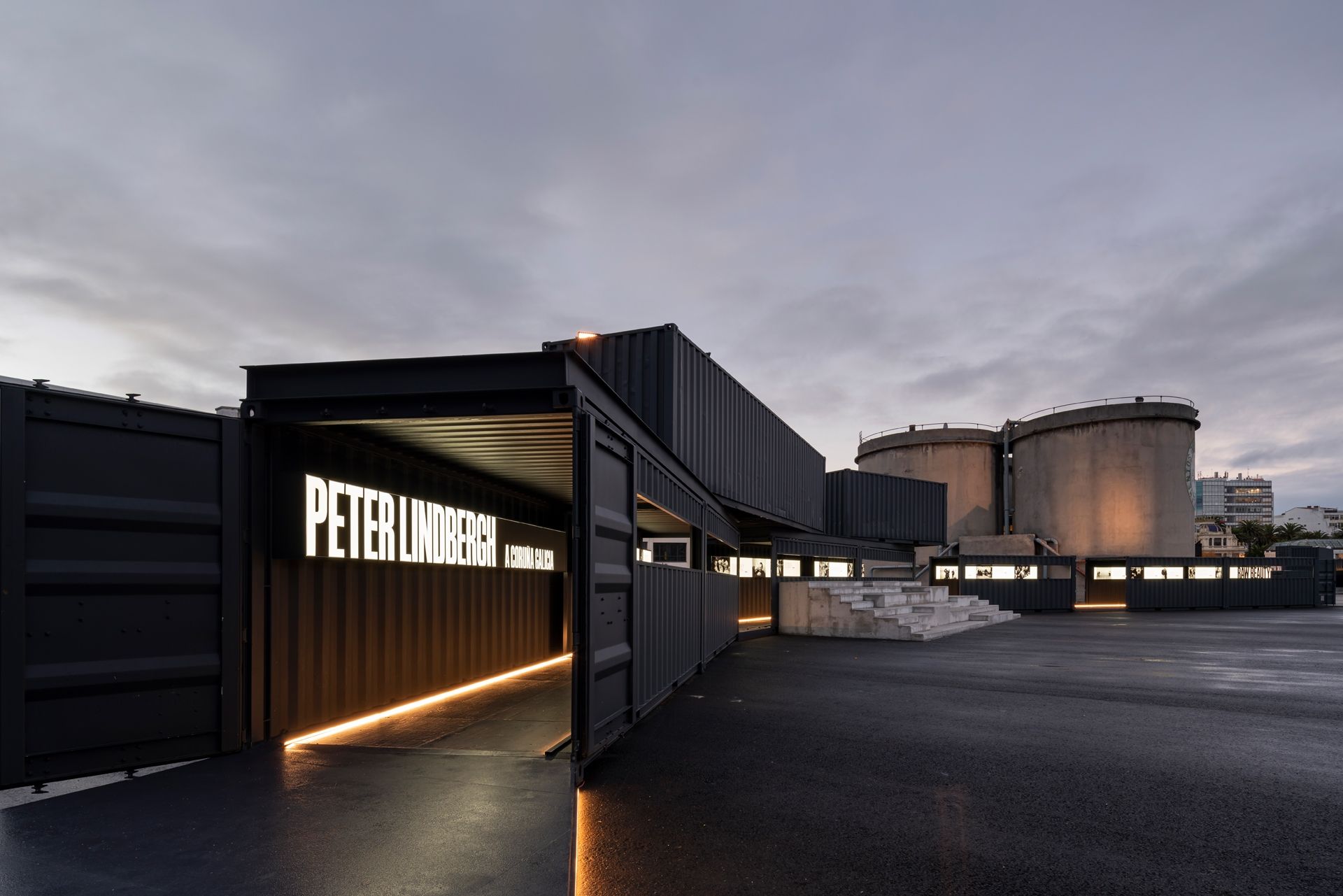 A Coruña, 9 December 2021. INCOGA has carried out the execution of the exhibition space Untold Stories, a retrospective exhibition, of more than 150 images, which immerses us in the life and work of the legendary Polish photographer Peter Lindbergh.
Located in Muelle de Batería of the harbour of A Coruña, this markedly unique initiative has been conceived starting with the rehabilitation of a disused warehouse, former merchandise warehouse, which now houses the exhibition. With an area of about 2,000 m2, it is distributed in three large, high-ceiling open rooms, in which the black and white chromatic contrast stands out.
Additionally, this new project signed by the architect Elsa Urquijo, contemplates the use of elements having architectural importance. Consequently, it is the case of the four old silos of a cement plant transformed in a new space intended for a store and cafeteria, where preserving the original industrial aesthetics was decided, included part of its old machinery.
A few stacked harbour containers as decorations integrate this emblematic work, introducing the visitor to a unique and immersive experience proper to discover the artist and experience his work.
It is the first exhibition curated by Lindbergh himself before his death, a legacy that comprehends his 40-year career and that, according to the British newspaper Financial Times, will be one of the most important cultural events in the world for this autumn-winter.
Known for his iconic black-and-white photographs, Peter Lindbergh was a reference in the world of photography as he immortalized some of the most celebrated faces in fashion and film.
Press release file on the exhibition:
Noticia El País / 3 de diciembre de 2021
Noticia ABC / 3 de diciembre de 2021
Noticia ELLE / 2 de diciembre de 2021
Noticia Traveler / 2 de noviembre de 2021
Noticia Financial Times / 24 de octubre de 2021
Noticia Vogue / 19 de octubre de 2021
Noticia La Voz de Galicia / 14 de octubre de 2021