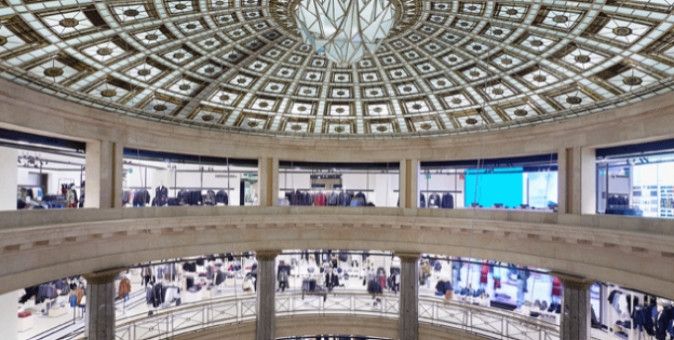 A Coruña, 9 December 2016. The new store occupies a building designed in 1931 by the Basque architect Eugenio Pedro Cendoya as the headquarters of the Bank of Bilbao in Barcelona, also responsible for Palacio Nacional de Montjuïc for the International Exhibition of 1929.
The architectural project of the new store has focused on preserving the main architectural elements of the old bank, such as the glazed dome that presides over the building, the colonnaded atrium with marble floors characteristic of the civil buildings of the time and the murals that run through the pedestrian staircase. The construction of this flagship saves interesting details such as the dismantling of some of the old vaults of the bank by remotely directed robots, the rehabilitation of the large central dome or even the piece-by-piece installation of the central staircase as to make it proper with the requirements in the current regulations. A work of great delicacy and technical skill carried out by Incoga.
If you can dream it, WE CAN DO IT.